Denmark v Finland / distribution of predictions (axe -

June 12, 22:07

)
A small glimpse to a new stats feature of the new version: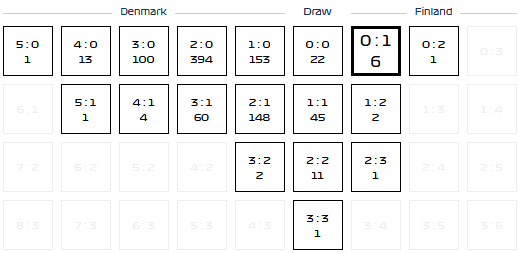 Olympic Games (axe -

June 08, 14:26

)
Let's assume the Olympic Games will start in a few weeks ...
I'll start the according prediction games in the next days.
F1 Qualifying Start Time (Clarky323 -

June 05, 12:35

)
[erased after expiration date]
Corona season (axe -

May 30, 12:24

)
Most of the 20/21 prediction games are over.
I'd like to thank all admins for their hard work!

I wasn't sure if it would be doable to maintain nearly 100% of the prediction games with postponed/cancelled matches during the COVID pandemic.
It worked pretty well. Thanks again!